M One Limited, Inc. dba Mark 1 Restoration Services specializes in masonry restoration. Specifically, this includes the repair of stone, brick, block, terra cotta, marble and granite. Projects range from large multi million dollar building restoration contracts to small stone statuary repairs.

Mark 1 has completed some very noteworthy jobs such as the repair of one of the oldest brick buildings in Michigan, (1839) to the complete restoration of the 10 miles of brick wall on I-96. Included on our lists of references are masonry and concrete structures of all shapes and sizes. These references are from some of the more prominent restoration engineers in the United States.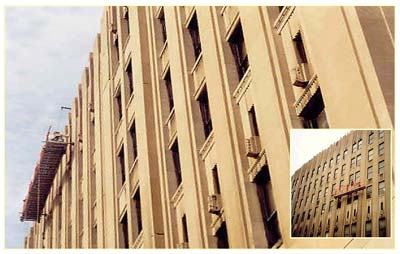 Mark 1's masonry repairs include a wide range of procedures and applications, some of which are chemical cleaning, epoxy injection, tuckpointing, concrete patching, brick and stone replacement, sand blasting, gunite, sealing, elastomeric coating, caulking, waterproofing, and masonry wall reconstruction.

At peak season, Mark 1 employs over 40 workers. Many of these are restoration technicians who have over 25 years experience in the field. Combine this with Mark 1's thirty-five years of business experience and you quickly realize the great depth of restoration expertise offered by Mark 1.

Mark 1's main corporate office is located in the city of Detroit. This location was strategically chosen so that it could conveniently serve Detroit and the major metropolitan cities of Southeastern Michigan including Lansing, Ann Arbor, Flint, and Saginaw and Grand Rapids.

Mark 1 has highly qualified field forces, an experienced and responsive management team and current openings for additional work. The benefits which you will realize when working with Mark 1 are quality workmanship, competitive pricing, on-time scheduling, and effective project management.

We are certain you will be glad that you gave Mark 1 the opportunity to bid on your next restoration project.